Enuff of keong bday.. kong bday.. or wadever.. who cares.. now it's my turn!!!
23..the number reminds me of basketball legend.. - micheal jordan
it's the special once a yr special event again!! it's smith's day!!!
Smith 22nd @ pitstop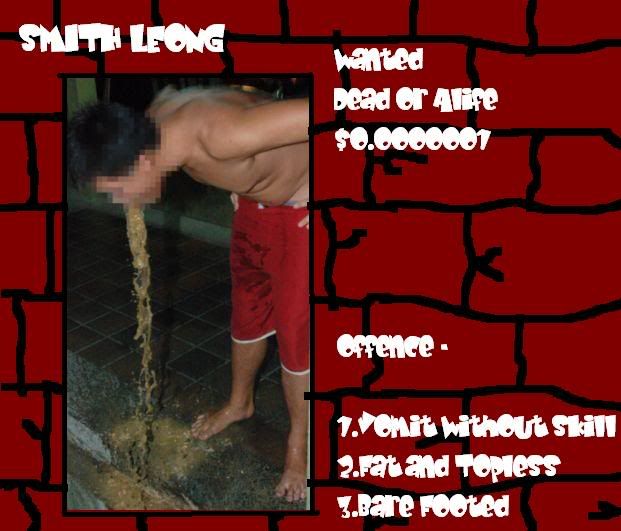 Smith 21st @ Chalet
Those were the days when the fellaship were so strong...
Birthday wish?? - Everyone around me to be happy.. it appears to me that pple around me aint happy.. too many individuals trying to find happiness with no clue what they want.. even on off days or occasions..job.. relationship.. what's happening to youngsters nowadays? no love? no passion? no money?
so wat is a happy birthday to mr.smith?
i dun need booze..
i dun need expensive gift..
i dun even need a celebration..
in fact if u ask me.. i nv realli like celebration \.. i nv celebrate bday with my friends or classmate back then - unless the folks initiate..
it's just very much like getting married when u send out invitation but behind ur back all u hear is
: " wah lau.. red bomb again.. shag "
: " wah biang.. invite me for wat.. also dun realli know u "
it's not that i hear all this with my ears but i just have this fear with me..
All i need is a simple sms , fone call, or even on the msn.. a little happy birthday wish message will brighten my day..
When the clock strike 12 this morning.. the very 1st sms was from my deardear..and secs later was my boss Andre.
He is a busy man.. but he actualli make an effort to drop a simple bday sms when the clock strike 12.. i'm very touched.. it's nothing expensive.. but it worth more den anything..
and minutes later comes in aldrick's sms.. carolin's sms.. den quan an even call me..david even told me that he already got my gift way back..
the pple above ain't from my so call "click" thingy.. but they all remember my bday and that realli brighten my day.. and i am realli touched..
Quan an is a good friend way back since sec 1.. it has been 10yrs.. he actualli came to my place n fetch me out for a supper treat..
our life has drifted far apart - physically i mean.. he has he studies to handle.. i have my job.. and of course our very own social life.. but we still chat n rmb each other..no matter how tired i was last nite or working early this morning.. i can not turn down an invitation of a true friend like him..
bday.. isn't it a day to rmb the joy/nitemare of urself coming to this
beautiful
ugly world..
most important is we enjoy this day like any other day..
i dun need pple to be forced to throw a party for me.. and wasting money and time and not feeling happy abt it..
neither do i need pple to be responsible for what they say accidentally and den explain it as dun mind doing it.. it's the thought that counts.. it's wat u realli feel and realli wants to do.. i dun need anyone to do anything just to be responsible for anything.. i know many pple out there are real good friend.. the intention was good.. but the deliverables or the method aint too right..
and the next thing i dun want is pple to spent on me cause they are force to.. it's totally pointless if u spent all on me and u have to go tight on budget after that.. i know how it feels.. i know how much u will want ur friend to be happy if he gets the things he wanted on his wishlist.. but if ur friend know that u have to sacrifice to get the gift.. he rather not want it.. he wants u to be happy too..
i dun mind taking gifts from my dear dear.. haha.. cause i know she have save up enuff for me.. and my brother.. cause i know he has enuff to spare and shower the love on us..
be who u are.. know urself.. know ur limit.. if u are a chicken.. be a chicken and be proud of it.. dun act like a peacock..
Mr.Smith, i know this is not really the best bday speech.. but i believe it's important
"我就是我行我素 我沒有風度 我只有態度 你說我太酷"