You have no idea when was the last time I was invited to a food tasting event and I was very puzzled. I thought to myself, "I'm a fat boy, everything a fat boy eats look good no? Shouldn't they like invite me to all these events??" And ironically the very first few events i got invited as a blogger was food related.
Brewerkz
and
Ben and Jerry's
actually.
Aside from being a fat boy, a good friend/fella blogger/ marketeer told me "Wah lau, you also don't blog about food, ask you go eat for what? no KPI leh. Difficult to answer to boss lah."
Which hits me that I really don't blog much about food even when I always complain that it is something that is "easy" to blog about. All you need is some food and some information from the client no? Paste pictures and paste price and give a silly rating upon 5 stars. So when
Daniel
invited me to Danro (which I had no idea what it was.) I was like "CHALLENGE ACCEPTED."
My Bro is always right.
And guess what? All I could come out with was "the food is awesome." , "the food is nice.", "the food is si bei song ah!."
That's not the worst, what about pictures?
OMG!
Look at these real food bloggers! I have nothing with me. I only had my iPhone 4s. (not even 5.) I'm so ashamed of myself! However, super friends are always around the corner when it comes to blogging. Introducing my Danro super friend of the night -
Mr. Darren Bloggie.
See, as a proof, I'm right behind him.
So I am sharing some pictures of his with his permission.
What is so special about Danro? Danro is not just another Japanese hotpot because they are one that listens. I did chat a little with the CEO of MOF - Ms Lena Sim (A very hot and confident woman. Sorry no picture though.), and I realize one thing that they do very well is that they listen to their customers. They might be a traditional Japanese hot pot place but they listen and improvised a fair bit of things onto their selection to suit the local "auntie" and "uncle".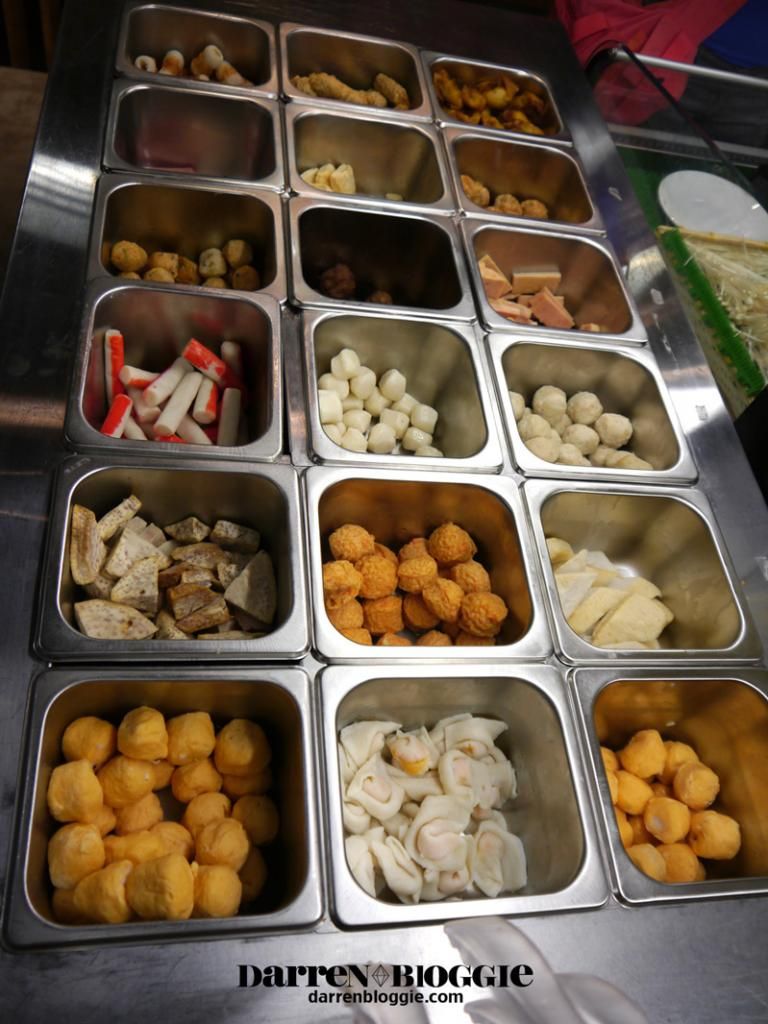 See, Yong Tau Hu!
And the other thing I would like to highlight is their soap soup base and sauces! Which in my own opinion is the most important thing of steamboat.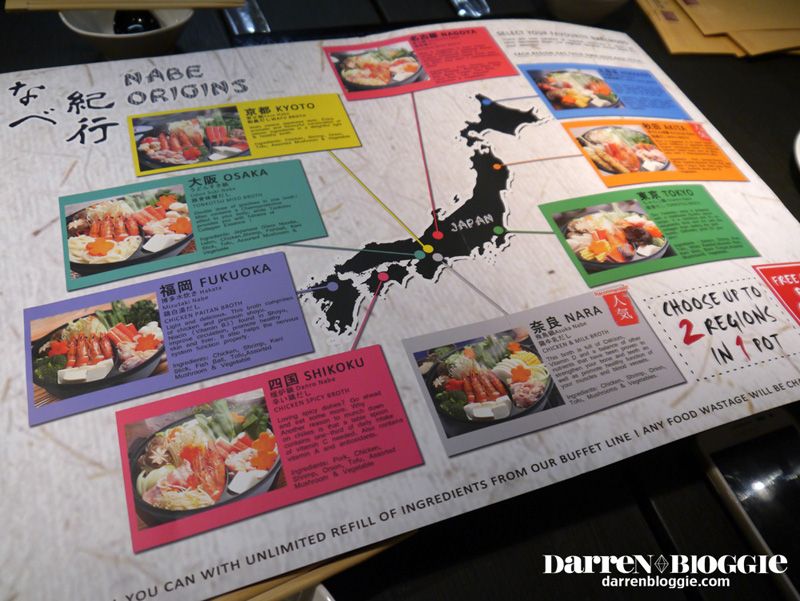 They actually have 9 types of base!
Another customer's feedback - Sambal Chilli!
And of course not forgetting their traditional sauces that comes with step by step tutorial! And guess what? With this instruction, I still screwed up mine. Instead of garlic I added ginger. HAHAHA
let's follow closely!
One thing about me and steam boat is that I'm impatient and I am glad they have ready food for me while I slowly cook the rest. And their ready food ain't just some typical friend chicken wings or spring roll. This is my favorite:
Onsen Eggs
And guess what? They have Japanese Bak Kut Teh!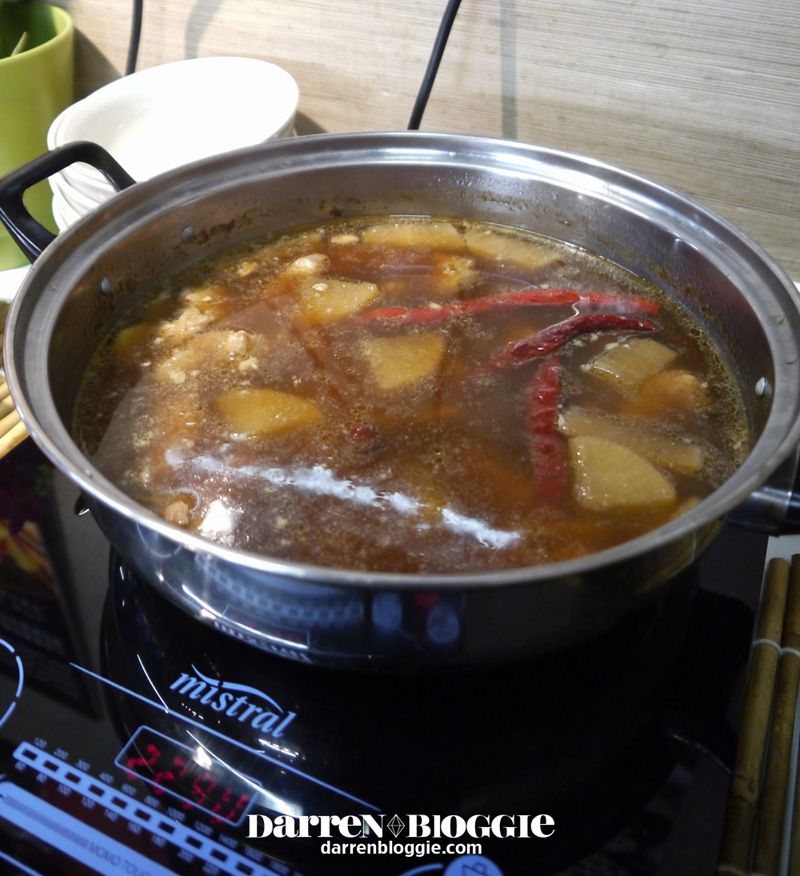 No joke! It's actually pretty good, although I still prefer KL/JB herbal BKT. :x
The highlight has to be the Kiritanpo! Please don't be like me and call it Kiri Tampo.(it's not hokkien for "a bit".) It actually means "cut" + "rice stick".
Although Darren's pictures are really nice, I still have to feature myself since it's my blogpost!
erm.. ya, that's me doing a.. never mind.
And if this seems pretty awesome to you and you are thinking about going there for dinner gathering with your ex gfs schoolmates, colleagues or whoever here are some of the important information for you!
Adults : $16.90++ | Children (12 years & below) : $9.90++
Seniors (60 years &above) : $13.90++ | Students : $14.90++ | Members : $14.90++
Weekday Dinner
Adults : $22.90++ | Children (12 years & below) : $9.90++
Seniors (60 years &above) : $18.90++ | Students : $18.90++ | Members : $20.90++
Weekend Lunch
Adults : $20.90++ | Children (12 years & below) : $9.90++
Seniors (60 years &above) : $18.90++ | Students : $18.90++ | Members : $18.90++
Weekend Dinner
Adults : $24.90++ | Children (12 years & below) : $9.90++
Seniors (60 years &above) : $20.90++ | Students : $22.90++ | Members : $22.90++
And if you already fallen in love with this place thanks to Darren's nice pictures and my crappy writing. Check out their Facebook page and make a reservation NOW!
DANRO Japanese Hot Pot Buffet by MOF
Serangoon NEX #02-04/06 (Serangoon MRT) Tel: +65 6634 4608
FaceBook:
www.facebook.com/DanroSingapore
Operating hours: Mon-Thurs, Sun & PH 11:30am-3:30pm, 5:30pm-10:00pm; Fri-Sat & Eve PH 11:30am – 3:30pm, 5:30pm – 10:30pm
Once again, thanks Darren for the pictures!! XOXO.
Mr.Smith, Wah seh, I think I really suck at Food Blogging.