LATEST UPDATE - 4th NOV - WII AND WII SPORTS SOLD !!!
helping one of my colleague to sell off her TV and Wii set which her son won from some contest which i never get it.
People go play Wii game and win and what's the chance a person without a Wii will win ? What is the point of giving them something they already have ? EPIC PHAIL !!
anyway.. here goes the items. ( click for larger image )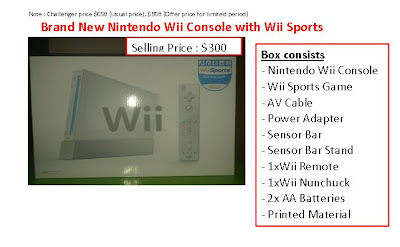 Please contact grace @ 96461968 for more information
"And now ladies and gentlemen, that's the ugly truth"