Lots of report on CNY movies.. CNY is the season where the so call greatest movie will be release to fight fight box office.. some win.. some lost.. some talk sour.. some copy .. some just pure coincidence..
As a moobee lover.. there are so many many movie.. how to avoid everything different?? win means win.. lost means lost.. i rather diam diam lost then talk so much..
I have yet to catch Jack's New Show and neither did i watch Slam dunk.. Not really into the idea of Kung Fu Dunk.. i might get the Vcd and that's enuff for me..
i caught 2 show recently..
CJ7 and L change the world..
CJ7 -
LJ 7 more like it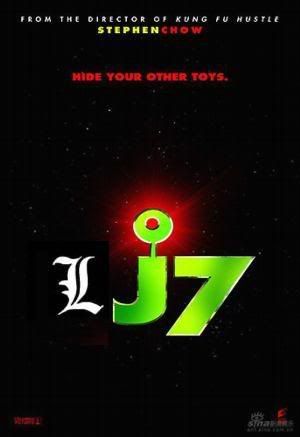 Storyline is so-so.. too shallow.. the climax is too short.. and the problem was too easily solved.. very light watch .. not really my kind of movie.. Jokes of Stephen is mediocre.. not the best of his work i will say.. but i have to give it to their acting skill.. the boi - i mean the ger was very good.. expressive.. 5 stars for her acting.. and the bond of her and Stephen is very real.. and the teacher is very hot.. not really in the show.. but go online and search more of her pic.. nose will bleed lor..
Conclusion?? This show is more like LJ - 7 then CJ 7..
2/5 - not a moobee i will spent money on..

L change the world.
More like - L Change MY world
Very highly rated smart and clever moobee - Death Note Spin off.. but as usual.. it has proven once again.. spin off is nv as good..
viewers who are looking forward to more brainy case , brainy plot of using the death note , more cutie scene of misa misa , more in depth story line which put u at the edge of the seat. - dun border going.. cause all the above i have spoken is NOT in the movie..
Just when u thought he will fully use his last 23 days to crack something really interesting.. i would say he wasted 23 days..
Story line is plain shallow.. no action.. not much acting skill as well.. just that bottomline - L looks damm cool.. period..
This show storyline could be much better if it was use as a jackie chan action movie.. at least there is action to entertain you..
conclusion - L really change my world..
1/5
wasted so much moolah on these lame show.. argh.. I wanna watch Vantage Point , Rule #1 .. quite alot of looks good show wor!! hope they are not disappointing..
Mr.Smith , waste time , waste money , waste energy to watch lor
"我就是我行我素 我沒有風度 我只有態度 你說我太酷"