What? You think pple John Rambo Come back then i wanna be Rocky?
nonono.. rocky means rocky work life.. not so smooth.. have been making stupid mistake in work , event on ground ain't that smooth as well.. client chu pattern , part timer chu pattern , and the amount of stress i created for myself looking for perfection. haiz.. i need to learn to relax.. i just can't take my worries and my work off my head other then doing something else.. I cannot read .. reading causes me to think and i will link back to work.. i can only play PSP to stop myself thinking about work..
And i found out other then playing my PSP there is something else that can divert my thinking as well.. jogging..
I went for a good jog yesterday nite and i feel really good.. but legs tired.. and after my jog i actually went to the normal~ bball court my brother use to play and train bball at..
talk abit w the kid there and play abit of bball.. he is 16.. and guess wat.. he was from my school !! and thinking back.. i use to play bbal there back when i was like 12 and 13.. it's 12 yrs back.. wtf.. which means when i was playing bbal there , the kid i was talking to was onli 4 yrs old.. =.= ...
anyway.. this might be a good start for everything.. it's time to get back into shape !! more sexercise and jogging more training !!!
And jogging is not enuff.. it comes with a balance diet.. good breakfast is important.. i normally will leave house empty stomach.. but this morning , mama made me nice nice breakfast!! GPGT!!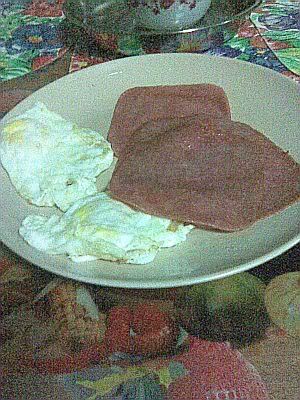 Egg egg with ham ham ~~ muahahah!!!!
oh.. come to think abt it.. the ham was purchase by bui eh.. not yet pay him sia.. yawnz..
Mr.Smith , self stress..self pwn3d..
"我就是我行我素 我沒有風度 我只有態度 你說我太酷"