Foreplay
: Played PES 6 with Jacky on my$500 PSP and Jacky borrowed Joyc's PSP.. Win 2 Draw 1 Lost 2. Best match was Villereal Vs Roma, Pires goal at 83rd min save the day and Man of the matches goes to forlan for doing almost 10 shots and ZERO GOal!!
Edit : Added PSP Price
-------------------------------------------------------------------------------------------------
It's the bus stop outside Clarke Quay Mrt station and the all new Central C. It's a normal routine when u wanna go drinking at boat quay and u dun wanna drive.. u'll be at this same old bustop waiting for 65M den and 2N now to go back home at Tampines. And directly across this street come the big sign saying " Singapore BEst Fish n Chips" And the same old thots run in my mind " Wah lau.. bhb leh.. fish n chip so common.. Restaurant sell them.. Canteen sell them.. Foodcout sell them.. Kopitiam also sell them.. so hao lian meh??"
So we do have some spare time b4 meeting John ( Jacky's new name), so dear and i decide to drop by there to try this "Dare to say fish n chips" The interior design was so so and they have this cafe cartel-order-urself-system as well. So the fish n chips ranges from cheapest $6.50 (common dory) to a good original fish n chips which cost u a good $16.50 which is like $10 different.
So both Mr.Smith and Ms.Chris decide to go on the great saving plan n decide to buy something cheap but we dun want it to be something yucky too.. so we got our eyes laid on the fish of the day. They have this combo which is so economical !!! $19 for 2 sets of fish of the day, a drink and colesaw each.. and the fish of the day is halibut fish (i guess).. which was priced $10.50 on normal days without a drink..SHOooooik la!! Great saver of the day!!
And when at the counter.. they ask this question.. So u wan Chips or Fries?? both of us got stunt wor..i thot fish n chip always comes w fries want.. so wat chip?? jack n jill ah?? so smartie pants Mr.Smith decide to order 1 chips n 1 fries to see the difference himself (
didn't wanna sound stupid by asking the counter la.. shu lang mai shu sei
) den we only know wat they mean by chips n fries when the food was serve..
Chips = Chopped Potato by the poor cook
Fries = Chopped Potato by the factory and dear cook just open it from the bag n cook la~
And their tartar sauce is worth mentioning too.. it was with a nice touch of wasabi in it!!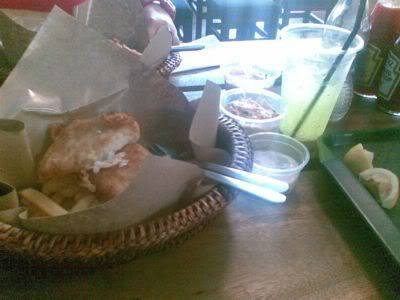 These are really good lo! I ain't bluffing you! Fish,Fries,drinks. everything! Tartar sauce too!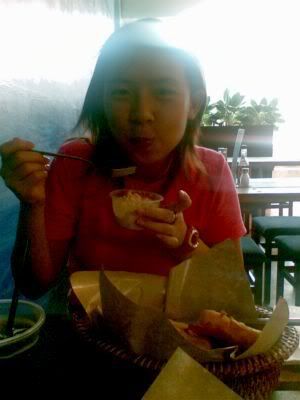 Yum yum~
Conclusion : 4.5/5 , no air con.. so hot..service crew looks so sian.. but food is good and worth it la!!
And sorry for the bad foto ah.. bo bian.. no money buy gd gd cam.. onli got my nokia cheap cheap phone.. :lol:
den john came and we went to orchard w john and met mum kelly and den mum aizhen.. all talk cock and fun la.. and dear dear force me to try NUM singlet.. wah lau..chest area damm tight.. cannot breath.. makes me look gay too.. cannot make it la.. fatty bom bom still wanna urban male my head~ more like NKM.. New Kampong Male..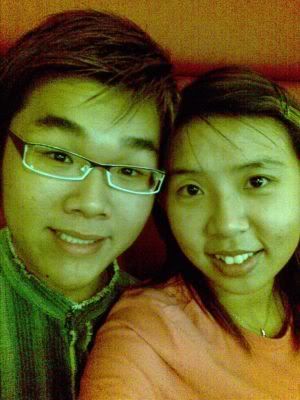 Taken at NYDC while Mum AiZhen was having her male.. i mean Meal
Ended off the day with a CAR WASH!! quite fun to be in the car while they splash water and soap soap all over ur car.. too bad not by hot bikini babes.. All the fun for $6 only!! dun need all the hardwork and one afternoon wasted just to clean it urself..
John..happy that his car is clean..not for long
The foto below serve no purpose.. just wanna share w u peeps.. so who's ur mummy??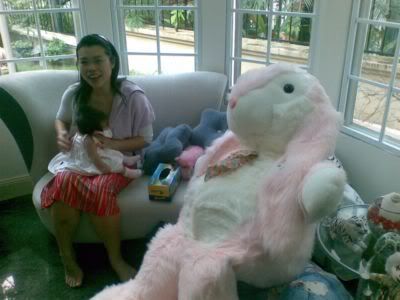 Just when u thot it can't go any bigger..
Mr.Smith,Fish and Chips anyone??
"我就是我行我素 我沒有風度 我只有態度 你說我太酷"