Have you ever wonder what is the history of flip flops? No, I've never either.
Have you ever wonder where did these flip flops comes from? No, it's not from a factory filled with kids.
What about how to make a pair of flip flops?
Seriously I haven't been putting a lot of attention on what's on my feet I guess.
According to an online site, this is a brief history of it.
The use of the word flip-flop for thong sandals is a modern term dating from the 1960's that describes what is probably the oldest form of footwear still being worn (the term flip flap has been used in various echoic senses since 1529).
1
Flip flops have been around for at least six thousand years. As a point of comparison, primitive shoes are shown in rock paintings dating from the late Paleolithic (Stone Age) period some 15,000 years ago. There are depictions of flip flops in ancient Egyptian murals on tombs and temples from about 4,000 B.C.
So it went all the way back to Stone Age?
hmmm, evidence says other wise.
I am not too sure about the history and age behind this casual pair of foot wear but one thing for sure I know is that
HAVAIANAS IS CELEBRATING THEIR 50th ANNIVERSARY! *
Party poppers*
The h store is all ready for the PARTY!
To celebrate their 50th anniversary, they are having a "MAKE YOUR OWN HAVAIANAS" event over the weekend of 14th and 15th of July 2012 from 10am onwards at The h store, Takashimaya SC, B1-38! (Doh, it's on the picture right? why am I like typing it out again. -.- ) This is where you will know how to make a pair of flip flops you call it your own!
And guess what? You know who are some of the celebrities who will be coming in their Havaianas too??
S from Gossip girls
Rachel from F.R.I.E.N.D.S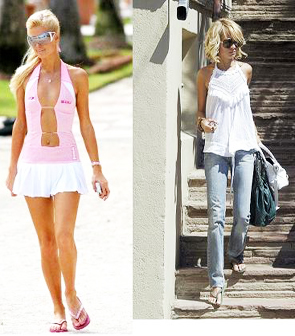 One of the blonde girl from House of Wax. :x
Hannah Montana from Hannah Montana !!
Wait.. You do know that I am just kidding you right? And I have to say I really like how girls can pull off this whol Havaianas with skirt/dress/jeans look and even go to clubbing in it. Imagine me, a man in jeans and havainas and jeans to club? I might as well stay at the void deck and play my guitar.
Anyway I can't wait for the weekend to come where I can actually drop by to check this event out!
See you guys there!
Date:
14-15th July 2012
Time:
10am Onwards
Venue:
The h Store, Takashimaya SC B1-38 (Beside Cedele)
Objective
: MAKE YOUR OWN HAVAIANAS!!!
Mr.Smith, don't stop make it pop, DJ blow my speakers up, Tonight Imma fight, till we see the sunlight, Flip Flop on the floor, but the party wouldn't stop! OH OH OH~