Various Sources
关云长 - more commonly known as
关羽 or 关公 has always been a symbol of loyalty. So why the confusing name between 云长 and 羽,you ask me. It works a little like your middle name if I am not wrong. One is a name people more commonly address you as and the other a name which others will call you by if they are closer to you in relationship wise.
Guan Yu has went thru too many face lift, from popular videos games such as the old school 吞食天地 to one of currents most popular franchise Dynasty warrior, animation such as gundam, popular trading card game - Magic The Gathering, Temple where people really worship him, TV dramas and even the most recent movie by Donnie Yen - The Lost Blades man.
I like how the lost bladesman is for it's story. Although it's a Donnie firm and it's probably more of it's fighting scene and all but I really like it's story. The lost bladesman is written in a different perceptive of the war. Since young, popular media which I have talked about above often feature Liu Bei as the good guy and Cao Cao is the bad guy.
To me, (I've read the novel for a few times) it's a war we are talking about and there is not good or bad. In fact, I side Cao Cao more than Liu Bei. Being in that time of violence,being ruthless and decisive is how a leader should be and not being tangled in relationships and feeling soft (no pun intended) all the time. Liu Bei on the other hand has (almost) no talent. He can't fight well in battles, he doesn't know as much as Zhuge Liang and the only thing he could do well is cry. ( not weaving of shoes like the one in the other movie). According to the novel, he cries a lot and a lot of talented warriors will follow him because of how emotional he is. They felt that Liu Bei is a person with love and feels for the people. If you ask me, those are all staged and crocodile tears. End of the day he is still in the battle field and killing people and wanting power. If he had spare a thought, he would just stop fighting. Like what they say, fighting for peace is like fucking for virginity.
So in this show, they actually show more about the "love" between Guan Yu and Cao Cao and it's a lot about how Cao Cao is as a person and how sad he is as he is always being mistaken for being the "bad" guy.
All in all, this show is rather slow pace, thus please do not be like me and watch it until 10+ 11pm and almost fall a sleep in it. It might also be a little confusing for people who has no knowledge at all about the 3 kingdoms.
Overall Score : 3/5
Signing off with a peekture of my fav 3 kingdom character -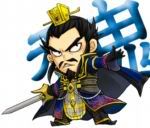 CAO CAO FTW !!

Mr.Smith, 不是英雄,不读三国