How's CNY guys? for me it was busy busy like a bee.. nv really rest well althought boss gave 1 week closure for CNY but i was working thru out this period as well..
Well it's not all work no rest for me actually.. i manage to get some time in between to get guys over to my place.. as well as dropping by some folks place..
the trip to mention was ah Keong's hse.. not the traditional gong xi gamble or eat and watch tv visit.. i was there to play game.. simi game??
pretty much like resident evil kinda story line where whole town is those parking asshole zombie trying to chew u up but the best part is it is co op and got 3 si bei zai AI follow u around while u shoot some dirt.. very fun but the whole game is dark dark and si bei scary.. will play until shit come out lor.. knn..
but good part is it is pretty exhibition.. just run around and shoot and jump and dunneed to crack brain trying to find clue or item or wadever.. learning curve - 3 min..
but where did the nitemare part come in??
when i was sleeping at nite.. i think due to this game i kenna the BR man sydrome
link
I dream that i was in office working and going to lunch with 2 other colleague and suddenly my boss call me on the phone and ask me where am i? he is reaching tampines soon and meet me lor.. ( den i ponder.. cause this IS the real meeting i am going to attend this morning.. )then i was like eh.. weird leh.. i am going to have lunch and boss ask me abt morning meeting.. i must be dreaming.. so i force myself awake and next thing i really wake up..
so i told my dum dum to wake up as i need to go work liao.. but instead of taking bus.. we went to a basement carpark and dumdum say she wanna pick up her car n drive me to work.. And next thing we saw was alot of halloween looking costume pple giving us flyers.. dumdum was pretty scare and we walk faster and then ahead was this very nicely decorated booth which belongs to some cosplay event.
orh.. it was a cosplay event.. so i stay and look around while dumdum go and pick up the car and i was suaning this guy that their cosplay looks so fake.. when i turn my head i saw these car crush looking guy.. damm bloody.. some come in half a body.. half holding the bike head and half of the body crawling after the front..
i was like NA BEI !! must be dreaming.. ok ok.. quickly wake up.. so i force my self to wake up.. and this time i saw dum dum backview on the bed which confirm that i was sleeping.. but the slip back into the dream seeing alot of these blardy ( and i mean it ) zombies.. so kip telling myself it's really time to wake up..
i woke up.. and i turn my head.. and i saw a freaking limbless zombie with a ghoul looking head sleeping beside me and smile at me..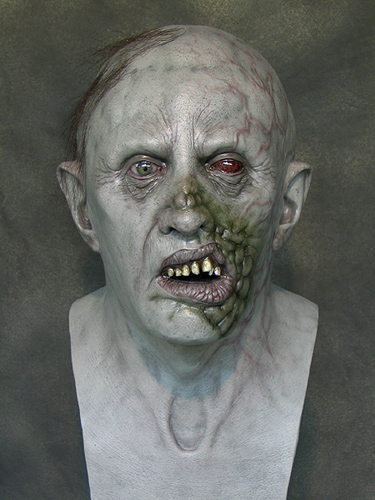 I SCREAM OUT LOUD.. i saw dum dum.. okok.. this time really wake up liao.. it was 6.14am in the morning.. i dun feel like closing my eyes anymore.. i dunno if i am really awake of am i still in the dream..
it has been a long time since i have such a long detailed dream.. and yes.. scary...
Mr.Smith,i dun wanna play anymore left4dead liao..
"我就是我行我素 我沒有風度 我只有態度 你說我太酷"