Dum Dum and I pre-celebrated my bday when i am still free... in case next week i ish busy busy like a bra.. i mean like a bee..
dear dear invited me to this place opposite PS.. Giraffe wor..
the place ish classy and nice to chill.. food price also normal.. food quanlity also not too bad.. and we are in the mood for a bottle of white wine..
ain't too bad a trip and damage is by dear dear.. :lol:
GPGT
thanks to the gay program picasa.. it's so easy to use i feel like i am an ah lian!!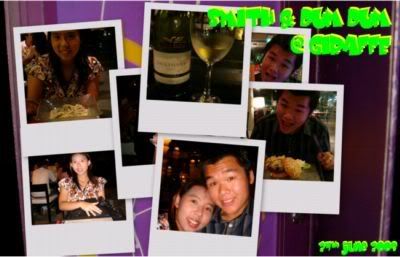 Mr.Smith, thanks dum dum~~
"我就是我行我素 我沒有風度 我只有態度 你說我太酷"