Huat ah !! Singnet BB FTW !!!
GPGT !!
before chiu all ask me if i got this on the PC fair.. i say NO.. PC's fair promo is very limited and comes with overprice "free gift" and after i visit there i think it's a waste of time..
1 - i went tot he bb counter and ask if they got a promo which dun give "free gift" but give me better price wish i saw online.. he say he dunno must ask "VERIFICATION COUNTER" and I thought y must i ask things at verification counter? but i thought maybe that's how they work.. so i just go lor..
2 - after i ghost to the verification counter the person scolded me for going there.. yes.. HE SCOLDED ME and ask me go to the information counter..
3 - by the time i at the info counter i ish angry.com.sg riao den i almost screw the guy there but he was very good and help me and so end up i sign up at home lor..
but all in all it ish very fast and good de lor !!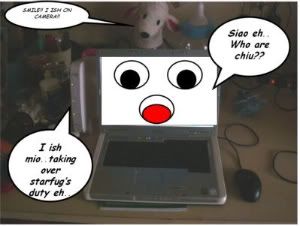 advise for those pple who wanna sign up singnet but very lazy cause comfortable using starhub riao.. i will say dun worry.. cause i also just switch from starhub to this and it is really a very sign process.. get the modem + router package and everything ish inclusive.. dun even need to buy extra micro fliter and everything is 1 cd installation.. dun even need to pay money for the bugger to come n fix.. d.i.y... less den an hour can done riao.. muahaha..
and for those who wanna wait for free gift.. i say dun bother.. looking at my scenario rite.. wat i previous using with starfug was $80 odd dollars per month..
now i am using $50 odd per month and 1st 12 month 50% off which comes to a 20 odd dollars per month.. and the speed is X times faster..
so 12 x 50 + 12 x 30 = $960 save compare to my starfug lor..
if compare to a product for example the mac book air.. which is a 3 yr plan.. adds up to $4248
my plan 25 x 12 + 60 x 12 ( round up ) = $1020 ( 24 months ) lets say i make it a 3 yr + 720 == $1740..
which means u pay for the macbook air at $2508
i dunno which 1 they giving out but GLGT
http://store.apple.com/1800-MY-APPLE/WebObjects/singaporestore?node=home/shop_mac/family/macbook&aosid=p202&cid=AOS-AP-SG-GOOGLE-AA50000080761&esvt=GOSGE&esvadt=999999-1126011-1052671-1&esvid=101815
so not worth it one.. just get cheaper plan.. the money save is better den free gif t!!
Mr.Smith,Singnet bb FTW~
"我就是我行我素 我沒有風度 我只有態度 你說我太酷"