Sorry for the disgusting 3 min art work..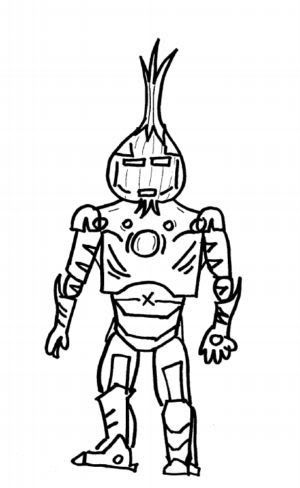 Anyway.. The movie was good.. I mean Iron Man not Onion man..
before everyone flame me on the shout box with " see i told u liao " , or "n00b" .. I admit.. Iron man ish good..lucky i catch it after "n" number of pple urge me to catch it..
It's not just another Superhero flick.. so pls do go and watch.. and u can get pw3nd by waiting for 4 mins to watch a 10sec scene after the credits which u cannot even understand wat he is saying if u are not use to the speed he speak..
so what so different? I cannot really feel the big big diff but i will say this movie gel very well from top to bottom.. there is no "slow" scene or boring part as well as not the very very typical "build up" , "problem" , "climax" , "problem solve" kinda thing.. and also Stark aint the typical goodie goodie hero type.. he do wat he wish and he sleeps with woman..so isn't that cool??
I use to watch the cartoon on prime12 when i was younger but i was nv realli a big fan of his due to his look.. other super hero look gan cool but he comes with the little uncle looking beard back then.. but now.. he look gan cool.. hahaha..
anyway.. waiting for part two.. see how they going to make war machine come in.. best is avenge and come in thor.. Thor is one hero i always want it to be made into a movie.. but i guess Thor just aint the all time fav kinda hero like wolverine or spidey..
Conclusion?
A 5 Superman Rating !! $9.50 also worth watching !! DDMW !!!

Mr.Smith, The truth.. The truth is.. I am.. Onion man..
"我就是我行我素 我沒有風度 我只有態度 你說我太酷"