oh yesh.. it's 512 again.. Happy birthday Kong ( i know u are reading )
we kinda celebrated his bday on the friday nite.. which was kinda overrated if i say it's a celebration..
no drinks.. no bday song.. no present.. that is how bday ish being celebrated when you quit drinking?
and so birthday ish nv the same again?
looking back on my brog archive.. u ish can see 512 of 07 and 06 .. it sounds damm fun..why? cause kong ish a good drinker..
so oh well..
anyway...
It's them..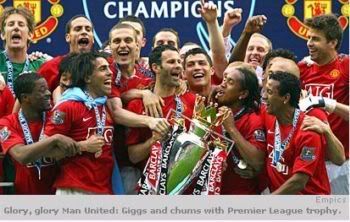 Picture from Soccernet
Congras to all Man u fans..
Mr.Smith, so much to do.. where to start?
"我就是我行我素 我沒有風度 我只有態度 你說我太酷"