Warning* Photo Many Many Post Is Cuming.. NSFW..
Mr.Smith Finally getting a good break from work after all the X'mas Shit. Finally get a block leave to spent time with dumdum and fulfill some of the things we wanted to do..
Day 1 :
Spent time to catch a movie : I ish legend..
action : not bad
Story : soso
Actors : Will Smith and the dog
Sex Scene : NONE.
Final Score :
After Movie we meet up with good old friend david , ron and willis to celebrate Boxing day.
Hogs Breath Food at vivo is really nice and big big serving.. but really SEXpensive too!!
Final Score for Hogs Breath :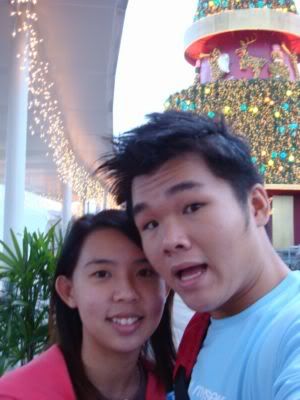 And VivoCity's Xmas Tree is still around !! SMILE!!!
Day 2 :
ICE SKATING !!!!
Something Chai always wanted to do.. We done our fair share of blading.. now it's skating time.. abit slippery but much more graceful.. but not much control.. prefer blading still.. and ice skate is sexpensive..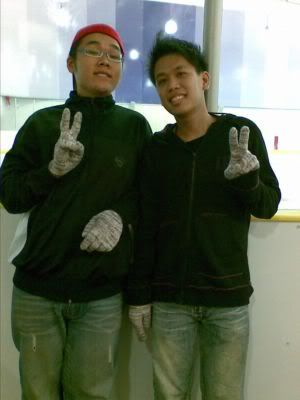 no time to take photo.. cause time is money in that place.. so oh well..
Day 3 : Far Far Away land..
A place we always wanted to go but no time lor.. and finally...
Dumdum drives me there with the Chai-mobile.. Chai?? At home sleeping.. nite before went erm zi erm zi.. no energy to go with us..
So where are we going?? give you a hint ..
A place where dumdum will meet her long lost relatives !!!
Still no idea?? n00b!!!
It's the Singapore ZOO!!!!
Smith : wah lau.. que so long.. what if ticket sold out??
Dumdum : where got such thing as zoo ticket sold out one.. n00b!!
Oh and yes!! we've got it!!! and it comes with free map.. quite sexpensive.. $16.50 each.. but oh well.. cheaper then Taxi lor!! well well.. shall not touch on this topic..
That's the very 1st animal we came in contact with!! MONKEY!!!!
Then some park peeps help us took this picture with the birds.. seriously.. I'm not really a jiao lang.. I'm quite afraid they will poke poke me actually..
GUESS GUESS GUESS PART 1 ( ans are at end of the post )
who the fcuk is that on top?? or can you even see it??
GUESS GUESS GUESS PART 2
Wanna make a guess what's that furry animal in the pool?? it's quite cute actually.. and it starts with a vowel..
Round 1 Fight !!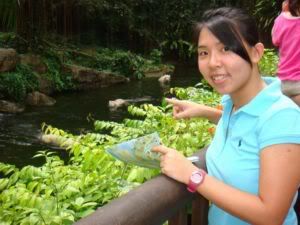 Look at those white tigers!! just when you though the Mu Lao Hu ( tigress ) at home is fierce.. they lagi more fierce..
wanna watch some cat fight??
Hippo !!! cute rite?
AJBM ?? Ai Jiak Bak guao Mai?? Zoo's food too sexpensive.. only can eat this!! haha..
Look.. the man got a pouch in front but not the kangaroo.. so who's who??
GUESS GUESS GUESS PART 3 :
LOOK!!! what's that?? Table soccer?? cannot be leh.. also no pole to control the players.. =P
Actually monkeys are really very close to human.. they are very smart and they do what human does as well..
Prison Break Season 1 and 2 is happening in the zoo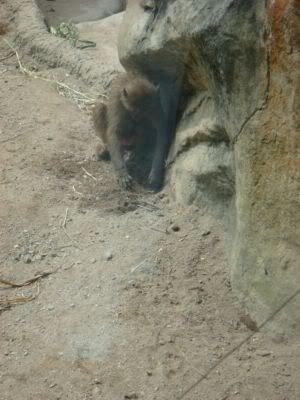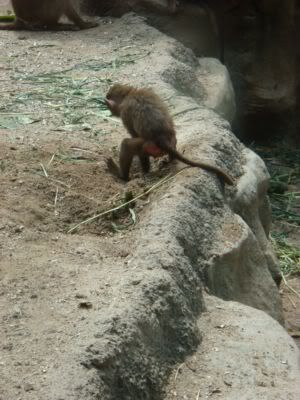 and be reminded if you are in the prison.. please dun drop your shower soap !!
and then we saw this fella...
Familiar rite?? self pwn3d...
after a long day of walk under the sun.. nothing beats standing under the fan~~
Finally found them!!! The Stars of the day!!!
Look at how happy dumdum is to find her favorite penguin.. haha..
and we saw eve from pitstop too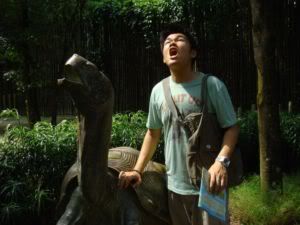 CHAO TURTLE!!!!
ook ok.. u ish not chao turtle.. give u kiss kiss.. dun angry...
NOW SHOWING!!! Alvin and the chipmunks !!!
GUESS GUESS GUESS 4 :
from the two picture below.. who is the person who is REALLY scare of touching the goat??
Or
Guess Guess Guess 5
Whose Shit??
What the hell man.. the pigs staying in the sheep house? or the pig's name is sheep??
Fear Factor !!
those bloody maggots!!
no no.. not maggots.. hissing cockroaches actually..
Other then the above animals I've posted.. we see quite alot of other animals like zebra, lion , cheetah , tiger , giffare , monkey , monkey , monkey , apes.. chimp.. kaoz!! the kind of monkey in the animal kingdom is like 3 ish to 1 lor!!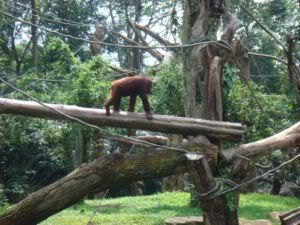 .. ok.. that's about all.. give the big fella a hug and let's say good bye~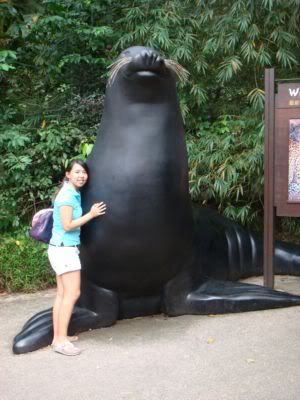 and to end of the day.. it's dinner time!!!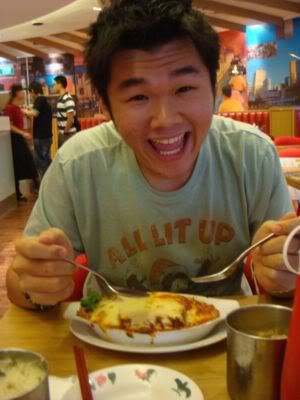 HEY HEY!! MY DINNER IS BETTER THEN YOURS!!!
Guess Guess Guess Answers
1 . Monkey !! what else??
2. Otter ~ not orh ber~
3. bone display set
4. Smith !! Chris made Smith touch that fella..
5. PIG SHIT!!!!
Hope you guys enjoy the post as much as i enjoy my trip..
Monday is back to work work.. dammit!!
"我就是我行我素 我沒有風度 我只有態度 你說我太酷"