Before i update anymore pics on party.. i will like to touch on the topic - "Speak good english"
I would not say i speak very good english or in fact i think my written english is rather bad as well.. alot of grammar and spelling mistake.. so before i get flame..i will like to disclaim that the main motive of this post is not to comment on ur english.. but to disturb one of my friend..Im still learning to speak properly english as well!!
there's a lot of common mistake we make everyday.
For example :
i like my pink color boots..
Pink is a color.. u cannot put it as pink color.. u can only put in " Pink In Color" or "i like my pink boots"
Let's go eat dinner
U can't eat dinner.. u take dinner.. u eat food..
You son is so cute!!
My son is adorable.. my dog is cute..nuff said..
but the above example are still very mild lvl of mistake as it is more or less like i say.. " common mistake "
but have u hear pple saying this b4??
" You scare me out of my shit "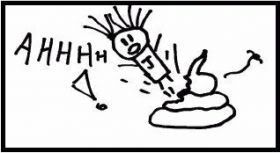 u shld know who said that from the illustration above
We almost die laffing when we heard that..
so inspire by that mistake.. we came out with a spoof
" I love you with the heart of my bottom "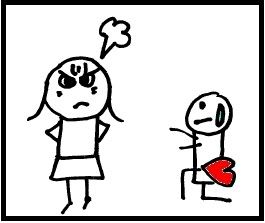 QIANG lo.. ur bottom also got heart
b4 i end this post.. this is for miss fifi
my 4th book cover,
hope u like it..
Mr.Smith, Mouth say no time.. but got time to draw n post.. lolx
"我就是我行我素 我沒有風度 我只有態度 你說我太酷"