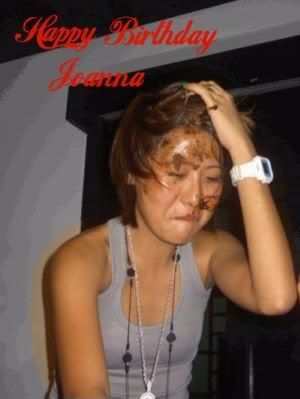 This is my colleague Jo..
A picture taken on her 21st birthday..
Those aint shit on her.. it's chocolate cake.. Thx to Ah Chiew..
About Jo :
She give pple a very dao and fierce 1st impression.. no doubt about that.. cause i felt so as well.. but the fact is that she is a super nice lady and a 1 time big siao char bor..
she is a very warm person.. always organizing trips n outing for the company despite many many time of failures.. hahaha.. she will send EDM out and sms and even mms just to get pple to sing KTV.. her hardwork is appreciated !!!
she is one of the best worker in the office.. my boss lub her deep deep.. cause she is very committed to task allocated to her.. She is very responsible and manage to hand in task on time.. oh.. she is very independent as well..
hope she enjoy her birthday party last week.. cause i sure did enjoy my share!!
Gary , Smith , Andre and Charles
Thx to Lester.. we have sexciting balloons!!
Mr.Smith , Happy birthday to jo!!
"我就是我行我素 我沒有風度 我只有態度 你說我太酷"