Disclaimer : the below article is basically spoof and made up.. everything below is written out of a point of joke. names are fake and everything is not true.. pls do not sue me
The hottest topic on both herworld and cleo this month is : *drum rollll*
- " Singapore Woman Do Not Have Enough Sex "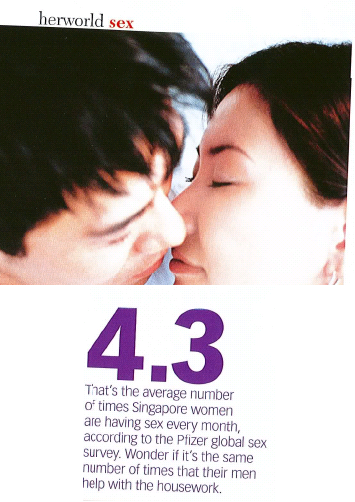 Got proof one hor.. dun pray pray
Is it something very true? Or is it just another "Sex-sell" Gimmick so to boost up sales of magazine??
Reporter Smith makes an interview with some ladies:
Name has been change to protect identity of ladies
Amy : "not enuff sex?? no time la.. work so busy "
Betty : "not enuff sex?? if i have someone to do it with.. i'll have enuff"
Cindy : "Not enuff sex?? Singapore man also not hot enuff"
Diana : " eee.. why ask this kind of thing.. pai seh la "
Elina : " Sex?? now business not good lo.. of cause not enuff ..stand one nite also no customer" (i wonder wat she work as.. hmmm "
So which is truth?? which is a fib?? from the article : 4.3 times a month..
4.3
I wonder what happen to the 0.7 times???
7.45am - Monday
Hubby kissing wife..
"darling.. i gtg.. morning got meeting la.."
7.30am - Tuesday
Hubby kissing wife..
"darling..the baby is crying.."
So is that what happen?? 0.3 times?? wtf is that~~~
So is it because of our living standard which causes stress?? but according to 93.3FM. Singapore is reported world wide no.17th best living condition country.. and many ppple would wanna stay in singapore!!
So is it because of all these which causes the low birth rate in Singapore?? Let ask for some pointer from Prof. S
Me : Hi prof S.. what's ur view abt ladies in singapore not enjoying sex??
Prof S : Actually.. many woman in Singapore are not enjoying sex.. the very 1st reason is they do not know wat they want.. is sex just lying on the bed with their legs open?? If u ask me.. from the technical view .. with much research.. it's not.. Sex is a feeling.. u have to know wat u want.. just like soccer.. u have to know u are trying to score.. and of cause.. if u always score the same way.. it will be very boring.. den u try bicycle kick.. and long shot.. lob the keeper and things like that
Me : sorry prof S.. at this point of time.. we are quite lost..
Prof S : u see young man.. i am trying to say.. Soccer need skill.. and skill dun come from playing more matches only.. u need a lot of practice !
Me : so u are saying?
Prof S : yes.. masturbation.. woman in singapore lacks of masturbation.. so when comes into the real thing.. they do not know what they want..
Me : so u suggest??
Prof S : very simple.. y do singapore woman dun masturbate?? simply because they find it is wrong in moral.. because of image.. because they think tat it is very sneezy and desperate to do such stuff..they are always w the "eeee..so sick" reply towards masturbation.
Me : what makes u comes out w such conclusion??
Prof S : very simple.. do man in singapore love sex?? yes they do.. if u been to the army.. u know it better.. guys are always talking abt sex.. talking to masturbation.. it's more then a chore.. it's a hobby!!!
Me : a very interesting insight there prof.. thx alot. but what other solution do u suggest??
Prof S: NO worries young man.. if singaporean sex drive is realli so low.. and complain lack of time.. i suggest to the gahment that we should have a national SEX day.. public holiday for all.. go home and have sex!!!!
How i wish realli got such good lobang..
Mr.Smith, Have u had ur sex today??
"我就是我行我素 我沒有風度 我只有態度 你說我太酷"