Name card - Branding.. An identity.. A tool for pple to remember u or to recognizes u.
Both Faith and Mr.Ma were giving out Name cards sometime back and i thot - " wah so cool.. got own name card.. like all grown up in the society.." ok la.. mr.ma one was sumthing like a photograph n home made.. but nevertheless that's wat he need for his business back then..
And now i got my very own name card!! COOL SH!T!!!
Pitstop??
well.. it could have been this.. but apparently this is
photoshop
paint edited.. this card actualli belongs to
Smith
Carolin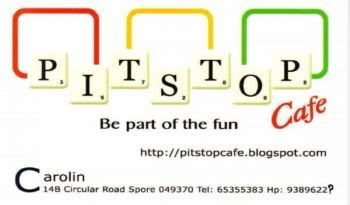 AH!! so envy
it's like so cool to have this pitstop name card.. I ALSO WANT!!! i trade all my pitstop dollar for one limited edition of that!! I WANT!!!! but too bad.. i dun work that often for pitstop anymore.. but oh well.. i'm going down this friday!! hiak hiak..
oh.. but not to worry dear readers.. i aint bullshitting u guys.. same time round the corner.. the real one is out!!
and so i thot i shld blurred my no. but oh well.. my name card suppose to be giving to pple i dun realli know so i guess it doesnt make a big differences rite??
anyway.. guys call .. i doubt.. gers call me .. i welcome them with out mouth n ears..
(hmmmm.. sounds wrong.. but.. nvm)
but if my boss ask me how my name card shld look.. it shld have looked this way..
Not too bad rite?? i think ask menchie do nicer.. i sux..
keong was also telling me he shld have name card like wat mag have..not too bad.. anyway tennis coach shld have some publicity and branding also ma!!
Mr.Smith, childish like a kid with a new toy!! - that's me!!
"我就是我行我素 我沒有風度 我只有態度 你說我太酷"