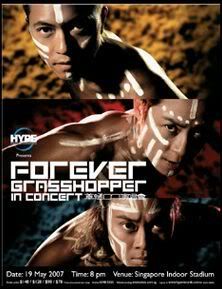 Went n watch the concert yesterday nite.. many pple was stunt "u which era one?"
and so on.. i didnt realli wanna watch as i am worry i might be wasting good money on a concert like this.. but i'm so glab my brother make me go.. it's realli a good concert.. u will not believe ur eyes unless u were there.. there voice.. their dance.. their stamina.. their body and their charisma.. did not lost out to any young man in the market..
in fact.. i think they are better.. which other "pop boy band" can last a good 20yrs?? kip their body fit? their mind fit? and relationship so healthy? many other band broke.. fight.. die.. injure..so on n so on on on.. but they did it..
they make the crowd dance.. shout.. sing.. scream with them.. they truly earn my respect..
4hrs of dancing on stage.. singing.. and not even a sound of panting.. is that the power a star will get when on stage?? the support of the fans giving unbelievable power??
that's passion for work? is it??
but of cause.. this concert is damm good.. and we were damm lucky.. buying a $78 ticket and sitting literally last row in the hall.. we were being shifted to the $128 seat as those seat were rather empty.. haha..
it's a good show.. but.. but but.. still lost abit to beyond la.. beyond realli make me stand up and jump .. n jump.. n JUMP!!!!!
muahaha..
Mr.Smith.. AI BU.. AI BU... YONG YUAN AI BU PA!!!!
"我就是我行我素 我沒有風度 我只有態度 你說我太酷"