Foreplay
: Spent last nite and the weekend hanging out with sr and faith.. it has been a long time and it's good.. it's just like when we 1st know each other..Faith's singing is still as electrifying..
I've been taking quite alot of tests nowadays..
Trying to improve myself and for jobs and things.. I was never panic about taking test or worry abt failing test in earlier part of my life.. It's always the so-wat-if-i-fail mentality
but fear seems to be my partner in crime while taking test nowadays.. it's not a good feeling..in fact it sucks big time..
but anyway.. this is one of the test i took few months back - RELC English Test..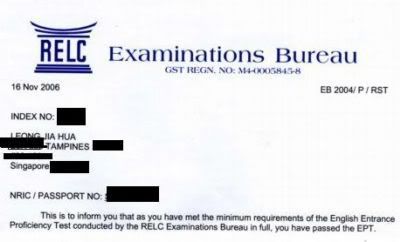 This is equal to O lvl B3 result
and of cause.. just this morning.. My long waited Advance theory test..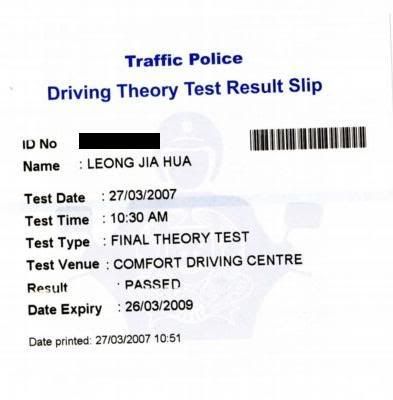 My 2nd time..and i spent the whole of last nite at the KTV.. :lol:
but of cause.. life ain't as smooth sailing as ever.. u win some u lost some..
Physical Education Entrance Test
I failed my run cause i kinda lost track and instead of run round the cone i jump over it.. and i'm rewarded with a big fat ZERO!!.. :lol: as for the badminton and ball game i'm really damm surprise i didn't even get a 2..
wat really matters to me now is upcoming IPPT - July.. AHHH!!!
oh.. and waiting for NTU/NIE Rejection letter..:lol: not confident at all..
Mr.Smith, Fatty Bom Bom~ Fatty Bom Bom~
"我就是我行我素 我沒有風度 我只有態度 你說我太酷"