Drop by at
Oohtique
again.. got some party games and i think it will be fun..got a nice chat with michelle once again and I seriously find that singaporeans or maybe just my grp of friends around me are still too narrow minded abt sex and stuff.. most of us dun talk abt it.. but why not? like the magazine "love airways" says : " everybody want sex.. since we want it.. why dun we talk abt it?"
there's alot of games at the shop which i doubt any of us will actualli play..:lol: and oohtique actualli hold events like hen nite and stuff at quite a resonable price too!!
Michelle is a real nice and hot lady!! oh.. and i meet her bf as well.. nice looking chap..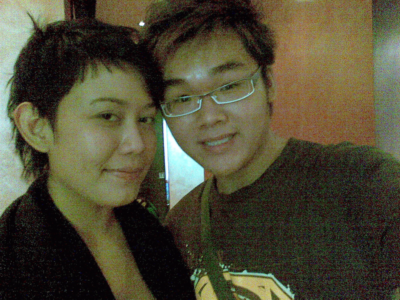 Michelle w.o make up(but still hot) and Smith w an ugly smile
my NOkia 7373's camera sucks at bad lighting area..oohtique is a sexy place.. so not much of light..
Mr.Smith, OPEN UP peeps.. OPEN!!!
"我就是我行我素 我沒有風度 我只有態度 你說我太酷"