For those who have been reading or have been talking to me recently shld know that i've been working at pitstop for sometime.. it's really a fun job and enjoyable.. meet new pple - fella pitstop workers like Joo, Caroline, Hui Yee, Siew Siong, Kok Ann, Thomas, Weilun + 4 boss and Aunty.. they are really nice pple and of cause meeting new pitstopper everyday !!
My Job scope include simple taking orders, making drinks, serve food, washing plates and stuff, teaching board games and taking photo. oh.. i dun mean only taking photo for pple.. some times we have to take foto with them too!!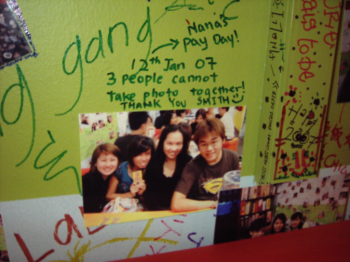 Diana, Yenni, HuiFang and Smith
No la.. we dun always do that.. it's just a very funny incident where by this lady Diana insist the pple in the pic will argue if there is only 3 person in the pic. so well.. superman to the rescue.. :lol: So after that i got to know their name.. :lol:
So that's actualli a very good gimmick for me to make pple take pics with me too!!:lol:
oh.. and i'm not the only one helping out too..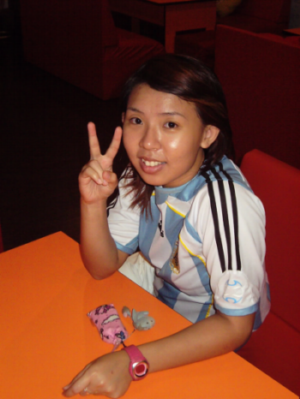 My silly dumdum wants gum gum
Yes.. silly dum dum is there too.. to pervent me from being cheecky and saving all the female pitstoppers...
anyway.. pitstop is not all fun.. there are still
irritating
stress times.. when the pitstoppers insist that my games ain't fun!!!
BURN PPLE WHO
DUN APPRECIATE
GOOD
BOARDGAMES!!
P.S: All My BoardGames are fun and I LOVE WINNERS CIRCLE!!
HUAT AH!!!
"我就是我行我素 我沒有風度 我只有態度 你說我太酷"