Disclaimer : Joyc is my real younger sister who is 15-to-be this year.. She share the same father and mother as i do. She is
Not
just someone who looks like me and she is
Not
my elder sister.She is my real
younger
sister who looks older = )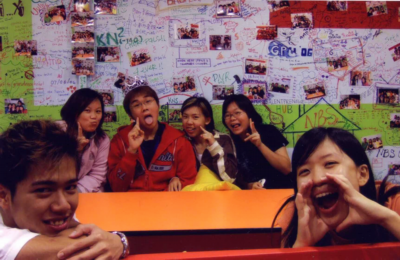 Left to right : Tiko Timo; Mum Caroline; Retarded King Smith; Silly DumDum;
ELDER
Sister Joyc; Black Hole Miumiu
So we were all bored at home and i decided to bring my
ELDER
sister joyc down to where I am working - Pitstop Cafe. So she got to meet some of the folks - Timo, Miumiu and Caroline! And Review from the folks
Caroline : " You are Smith's Twin sister?" Timo : " erm.. you are 24 yrs old?"
They must be glad they left the cafe alife. :lol:
So Joyc got her hands on a few games like halli galli, Citadel, Balloon Cup and blokus. And timo being self-proclaim blokus champion actually got last in our 1st blokus game with joyc knowing nothing abt the game.He did make a come back on the 2nd game and won lah!!
So Joyc's Review
Joyc : " woo.. this is a cool place.. i think i will ask my friends to come down. but i'm broke.. so how do i get a membership?"
So boys and girls, ladies and gentlemen of allll ages. listen up.. this is wat uncle smith will tell you when u visit pitstop :
Do keep ur receipt,and when u accumulate $100 of total spending within a month, you'll be entitle to a pitstop mini membership card which will give you a 10% off the next visit and 15% off during your birthday week. and be sure to check out our blogsite for promotions. And currently we are having members' nite on every tuesday and members can actually come down and play for FREE!!
yes.. that's our naggy uncle smith
Pitstop,Be part of the fun
"我就是我行我素 我沒有風度 我只有態度 你說我太酷"