Today is my ORD..many pple will write things like freedom lo.. and wadever so.. but i guess it's time for me to do some reflection and some thank you msg.. army..something every father mother son must go into and will get out of.. there's so many tips and trick.. there's so many way to do it.. some like to go in and get the best out of it while some just wanna get over and done with.. a journey of 2 yrs..seems so slow when u are in it.. feel so pain while u are doing it.. but looking back at it.. it's all good times.. fun times.. and i guess it's the only time u will stay in a pigeon like room with 9 other man and talk abt nonsense.. and do things u nv imagine u will do.. it's a magical journey.. and i've own so many pple.. so much..and i've learn so much from so many.. i'll list down what i've learnt and who i wanna thx since BMT till Trainee life till unit and now.. ORD.. so pple who are not interested in reading the whole article but just wanna find ur name to see how if u've doen anything for me.. i will recommend just ctrl + F ur name..
1. Thanks my silly silly and stupid stupid ger..i know it's a difficult 2 yrs for you. but dun worry.. it's over
2. Thanks my brother Ryan aka Kai Kai. He is the man who teach me wat to buy wat to expect in BMT. I'm damm bad with ropes and way b4 going into bmt i made him teach me how to tie my shoe laces.but now i can do it with both my eyes close.:lol:
3. My buddy from BMT - Ah Seng. i've no idea what he is doing now.. but i reali thanks him for help me with my Smart 4. it's sumthing which realli took me sumtime to learn u see.. i'm nv a origami person..
4. Edwin Tay - this fucker is 1 blur fuck.. same poly.. ex classmate but end up become my bunkmate and we were so close during bmt..thx him for motivating me when i wanna give up.. thx him for running slowly w me.. just to let me lost weight,even when he can go run faster..
5. Bernard - he is like one older brother to me in bmt..take care of me and give me food when i am sad.. when my bunk is too noisy to slp , he gave me a place to slp in his bunk.. when we go outfield, i miss my dear so but he is the one who talk to me and even cook maggi mee for me
6. Johnaton - both him and bernard plays the same roll..they are such nice pple.. i realli miss the time when they treat me like little brother and give me those support i needed so
7. 3SG Gabriel - if not for me, i think i more or less no father day liaoz.. the stupid ladder for soc.. he save my balls.. literally..
8. 3SG Chew - he is one blur fella.. but he give me alot of idea wat i wanna do.. he take suggestions and stuff even it's in bmt.. not many bmt sg do that.. most of them just f u bad bad..
9. Warren KK Lum - very soon bmt is over and posted to new camp.. he is the 1st person i've met and realli make my balls shrink jialat jialat. i just wanna thx him for being part of our life.he realli makes us remember him and every now and then talk abt him..
10. 2SG Khoon - this one lagi better..torture us for quite sometime but ended up being nice friend..he is a very knowledgable person.. he knows alot and very kind to us.. just that sometimes the things he do dun seems so right.. :lol:
11. Warren Johnson - of corse.. he is one main char of my army life.. w.o him.. life will be so different.. he gave us so much.. he teach us so much.. he bring lafter into army and teach us alot of office politics..he is one person no body wanna mess with.. i'm gonna miss him so much
12. 1SG Noel - he is one time big big slacker sg.. cannot find 2nd one liaoz lo.. but he is good! he is so slack that we got so much free time during training..and till now we are still very good friends!!
13. Paul Tay.. this guy is one guy i find him damm funny.. hang out all the time during course..he is very nice too.. help me with my ippt.. every time wanna go work out or sumthing.. he sure onz one..and at nite nothing to do he will be there talk cock w me till very late..
14. Bob.. this fella is a slut.. he treat me good food.. wahaha..
15. CPT Teo.. my previous OC.. he is a weird person.. he have gt his own standards of life and many things he do dun seems to be logical but yet at the same time he can give me alot of reasons and den all in all it sounds reasonable again.. he teach me so much.. he is one person i feel like punching in the face but i cant.. he is one good anger management tutor..i believe i've change alot in controlling my temper after being with him..
16. 1SG brian.. another nice fella.. teach us stuff.. help us cover ass.. and give us lots of freedom.. he is one sg who realli treat us like a human. :lol: he've done so much for us when the coy just started.. when he is the old shield taking all the shit..
17. 1SG Jocelin.. she is the woman who make me run.. motivate me to get all my 21km training.. and also she is the one making me do all my ndp and nv give me off.. but she realli is nice.. she is like a mother to us in the company..
18.3SG Ivan.. this one is a very nice person.. nice until bth.. he himself kenna jialat jialat most of the time .. help me downgrade my psp =X
19. LT TAN CHEE PENG!!! this one must caps.. it's very funny.. we realli hit if off very well.. common friends.. common topic.. and enjoying life.. he might be my pc but he is in fact like a buddy to me.. going nites out.. playing mj at my place.. giving me offs =X he is a very pro active person.. everytime when the guys are bored and feeling dead.. he will have sumthing to do.. and he always show concern to his man and of course.. we miss the time we play hangaroo.. :lol:
20. LT Huang jian Yun - this one is my direct pc.. not as close to him as to cp.. but he is nice too.. he teach me one time jialat set of curcuit training which suppose to make me fitter if i kip doing.. but hell.. who will? that set is killer..
21. CPL TAN XUAN YOU!!! this one lagi better.. he is one poor fcuker lor.. he is the one who let me abuse the most.. the longest.. he is my company panic button.. everything dunno just throw to him.. but he like it.. i also duno why but we are realli gd friends.. i guess because he alwasy give in to me.. he have no choice of what time to do wat.. go where.. kinda thing.. i'm always the one saying and he just follow me..i guess no one know me better den he do.. when i'm angry he willl let me scold n scold n scold..and best of all.. both of us have inquistive mind.. we kip asking each other question and think and solve it...it's realli fun knowing him..he is so responsible of his work and so smart..
22. everyone else in the bunk - all this peeps realli give me memories.. if not for them.. bunk life will be so sucky.. i bring back w me so much memories.. good ones.. bad ones.. even thot some of them realli make me boil.. but they are real fun time.. like condom on bed.. tekken nites.. the EEEEEEEE..
23. the new boys who gt f by me so badly.. they are all nice..when i was the stand in csm.. this poor boy sure make me feel different..
24. PSP.. this one is a important figure.. u mai siao siao.. u think everyweek from tampines to cck tripo easy ah? :lol:
i know there is still so many pple i might have miss out.. or i did not thx in person.. pls forgive me if i left u out on the blog.. but dun worry.. u r in my heart.. many says that u waste 2 yrs of ur life.. i agree.. but not fully.. it's not all waste.. u make friends.. u learn things.. u become mature.. and also.. u learn alot more.. so how have smith change in this 2 yrs?? lets see
Other den the normal army stuff like marching, using weapon or so.. let me see..wad else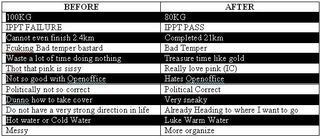 i believe there's still much more more de.. but i cant remember lo.. ahhhh.. i learn alot of things like soft skill.. office report writing.. research.. presentation.. actualli i've learn alot from xuan you too.. but i just dun think they are important to list down.. anywhere.. there's too much ..
"love is not finding someone u can live with..it is finding someone u cant live without"