Hi! Haaaaave you met tatt ?
Peeps who are following me should know that I got a tatt few weeks back but I am only blogging about it like now. Why ? Cause I kept it from my mum worrying tat she will blow her top. I was playing stealth mode at home by wearing top, covering it with towel. I finally show it to her because I was too tired of hiding and her respond was legend.. wait for it... dary. She went, "fake one right? sticker right ? "
Anyway, I got done at black emperor at Bali Lane after looking at Mr.@inrsoul's beauuutiful tatt. And I must say Moon(the tatt artist) is really good. A lot of the tatt shops give me a very intimidating feeling while Moon is very helpful and creative.
Let's take a look at some of the pictures of the process before I explains the tatt to you guys.
Walking down one of my fav area in Singapore. The Haji Lane, Arab street area.
Here I am !!!
My Buddy Keong was there too !
Moon and I discussing and finalizing the design before it becomes forever !
The lady owner of my tatt ! Ah Dum !! and Featuring Betty. = P
Done ! - no lah.. kidding.. this is the "sample" stick on.
The needles !
Betty feeling comfortable w the tired keong.
We are going to start !!
I was kinda scare when it was about to start...
But it's not that bad after all. It's srsly not pain at all. I was like SMS-ing and chatting with the peeps. Hahaha..
And it's done ! *close up*
Happy Me !
Polarize !!
*Thanks Christie for coming along and taking all these pictures !
- The Design.
I have always wanted to put a tatt but I just can't get a design for the longest time. No kidding as this thing is for a life time hey.
Inspire by Kobe Bryant I wanted a Crown on top of Ah Dum's name- Chris. It means "Top priority" but I do not want a direct "Chris" as it is abit cheesy lah thus I thought of having a "in disguise" thing. And Moon added a design below which makes the whole design like a shield and the design at the bottom is actually a queen which represent Chris. So the final design is like a King Smith and Queen Chris kinda thing.
Guys guys, you do not need to flip the screen.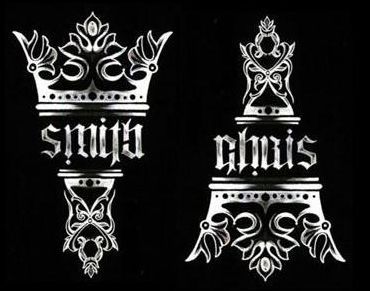 So here it is !
Haaaave you met tatt?