Finally set my foot into Lasalle's 15 minutes after all the good publicity from friends, online and makan kaki..(and yes.. christie.. the lasalle student who is so proud of her school's canteen)
it's a new concept of a little restaurant and bar kinda thing in the school compound of lasalle.
Their FB page -
15 Minutes
Not only am I impressed by the place but also by the whole school.. It was my 1st time down at Lasalle and i thought it's totally awesome.. cool shit i must say..so arty farty
And Christie is right.. the food is good and the price is really reasonable.. I was so impress i didnt take much picture around man..wasted.. but no worries.. can always do it the next time i go there again..heehee
oh.. did i say i was there with my penpal ?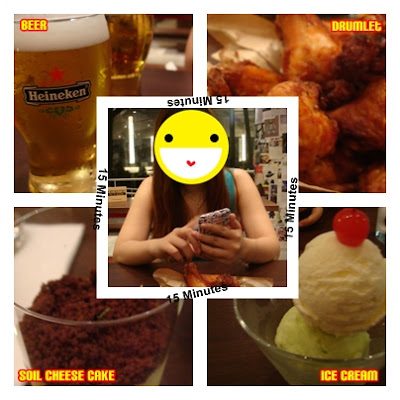 I'm sure she wouldn't wanna show her face to all.. = P
u guys should check it out !
Mr.Smith, we only have 15 minutes to save the world ! Boy i miss ur kisses all the time but this is, 15 minutes too late ~~
"我就是我行我素 我沒有風度 我只有態度 你說我太酷"