A photo summary of shots which was taken @ Aldrick's Studio...
Meet Aldrick years back during a school event and became good friend since then...
He was like sort of an engineer until he decided to break free and became a photographer... Two other guys and him got this studio which he will not only do his own shots but as well as renting it out as an additional income...
Called him for help two weeks back to take some shots for my personnel portfolio/profile/resume and he was like saying since we are going down for the 1st time, why not have some fun and we invited both Faith and Sianrong along...
We had fun.. we had pizza.. lychee martini.. some coconut juice.. the environment was really pretty cool actually..
Less talking.. more pictures !!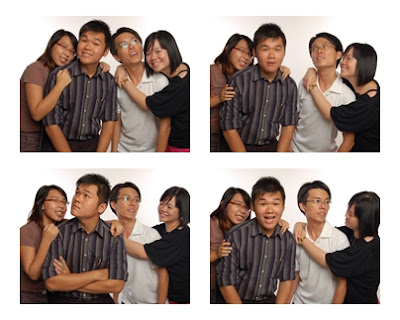 Some silly bubbles added by me and some silly little story line..
And last but not least.. my fav edit..
We dare to dream.. do you ??
And for those who are interested in getting some shots for your self you can either email me or just leave a little comment by the side.. We have events shot,wedding shots,instance glamor shot as well as studio shot services.
And if you are only interested in renting a studio but not the service, feel free to drop me email or comment as well..
Will get back to you as soon as possible.
and for those who are interested in the rest of the shots taken on that day.. links as below..(click my funny faces to view more )
oh.. and signing off by sharing with you guys one of my lastest work - Wallpaper of my dum dum !
Mr.Smith, Snap Snap Snap !
"我就是我行我素 我沒有風度 我只有態度 你說我太酷"