So where did we go this morning??
yeah lor yeah lor.. donate blood lor..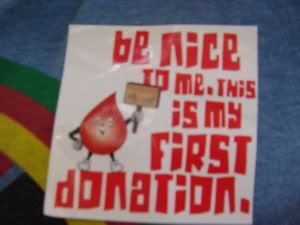 As u can tell.. this is my 1st time.. so pls be gentle with me..
pink pink also sexy hor.. alot of pple very nice one leh.. those worker as well as those volunteers.. they all ask alot of question if you are ok or not.. also chat chat lor.. den got this auntie tell me she donated 80+ times and u can onli donate once every 12 weeks and singapore top donor currently ish 205..
but the normal gang ish notch so normal this time round.. cause ah hao me and rampa all neber eat den act hero go donate.. den end up how leh??
Fainted like a pokemon.. anybody wanna bring me to pokemon centre??
Fifi was late and when she come she see we all toh-ed she become very scare and pale too.. oh ya.. she started biting her nails lor...
but end up bui eh and fifi both bo tai chi and we 3 like wanna die rike that lo.. :lol:
so lesson learn boys and girls.. wanna donate blood also must donate when healthy.. so if unhealthy and donate hor.. instead of helping.. u are creating trouble for all..
Mr.Smith,fat hor..still need to eat lor..
"我就是我行我素 我沒有風度 我只有態度 你說我太酷"