I just brought Emily to my favorite neighborhood game shop and got herself a PINK PSP!!
Got her the deal at a Good $345 for a latest software PSP + screen protector + Logitech casing.. i will say this place give the best bargain..best service and lots of free gifts!!
Some peeps might like to challenge by saying they can find cheaper stuff or so but wat i realli like abt S power Hse is their after sales service.. If they are no.2, i doubt u can find no.1.. yes.. that's how good they are for the niao sai Mr.Smith..
PSP is really part of my life.. some pple will say that they dun need it as they dun travel alot.. but i say it's more then just a traveling kit..
U can show ur friend ur favorite video? Listen to ur favorite MP3! showoff ur latest pics on it.. play some new game and classics as well!! u can play it outdoor and even at home!!
If u guys are true Mr.Smith fans u shld remember that i did some game reviews back then.. or u can simple click on the label below to bring u back :hee: have to thx blogspot for that function..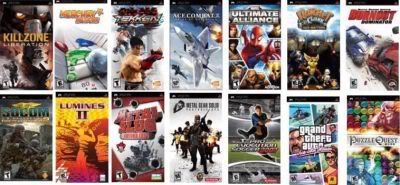 Pictures from gamespot.com
The titles above are the few highest rated games on
Gamespot.com
I've got them all ( yes.. that's how much time i spent on my psp) but i didnt complete all of them.. only a few.. and i will say out of the titles above there are realli a few of them can kip me occupied very very long!!
some of the games are so addictive that i can just replay them over n over again lo!! like Tekken 5 , Mental Slug and our favorite PES 6 !!
I was telling Alvin(from s power hse), the number of sales i bring him is like enuff to make a living for me if it's MLM ( Multi-Level-Marketing )so let's see
1.Myself
2.Xuan You
3.Ceyao
4.Adrian
5.Will
6.Uncle Chia
7.Jacky
8.Emily
and of cause i still have a few close friends who didnt get from the shop.. like V goh..and dumdum brother..
dumdum was saying she might wanna get one if she's going back to sch.. cause traveling is gonna be bored and even if staying in hostel, it's gonna be lonely nite..
I'm trying to get keong to get one and get Sianrong to update his software.. so we can all have gaming nites!! yesh ah!!
Mr.Smith, Guru of PSP not PAP hor~
"我就是我行我素 我沒有風度 我只有態度 你說我太酷"