Foreplay
: Dc Store aka Superman Store is having up to 70% sale!! Mr.Smith got himself 1 x Bag 1 x Tee and 1 x Tee for Sis, 1 x Tee for bro, 1 x Tee + 1 x Cap for dumdum which adds by to a total of $240 but i only pay a good $76!! pls check it out peeps!!
-------------------------------------------------------------------------------------------------
Any idea where's this??
Beppu Menkan Japanese Noodle Restaurant @ Suntec !! A place for a good treat of Ramen~ Comes in a reasonable price range of $6.80 - $13.80.
What's so special about their Ramen? They come in a range of 1,2,4,8 Chili Power. So u can choose how spicy ur ramen to be. For a spice lover like me,i tired a power of 2 and it's a very comfortable level. It's nice and not too hot but dumdum find it abit spicy for her. So dum dum got a lvl 1 spice ramen with char siew and i got mine with fried chicken.
There's this news paper cutting there saying that there's a lady who tired power lvl 4 and she was immediately send to the hospital - fainted la~~ :lol: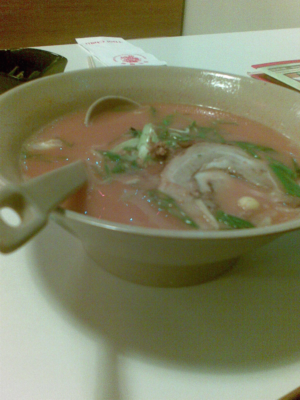 I dare u to try the power 8 mee!!
Conclusion : 4.5/5 - Price,Quality,Ambiance,Service and attraction is all there. My only complain? too little~~
I will like to try power 4 the next time i visit.. heehee..
I'm gonna visit my xiao xi xi 2molow lo~~ here's a preview for all readers~

I'm 2.5months/F.. Intro pls??
Mr.Smith, Spicy Mee anyone~~ 2gether la~~
"我就是我行我素 我沒有風度 我只有態度 你說我太酷"