Foreplay:
Spent the night chilling out with my pitstop boss - Weekee and Eve. They are as fun as always and mai siao siao.. boss weekee Pool skill is good leh.. just when we always thot he onli play bowling.. :lol: And mum Kelly actually gave me a surprise!! i just mention i like takumi's show and she actually pass me half of her collection!! Thx mum!! So touched!!
-------------------------------------------------------------------------------------------------
Remember the last time when i
Kenna featured
?? I was featured on
Pitstop blog
and this time round??
Stikfas.com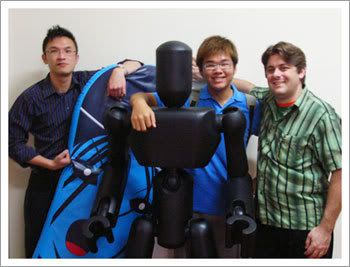 As much as i'm excited abt this foto. I hate it. I look like a gummy bear in it =.=
It was a good day and Joe aka Zagatto actually make an effort to hold this gathering for fans to drop by at Stikfas HQ. So i took a day off to visit HQ!! finally. It's kinda disappointing when i saw that it's onli me n gary. I'm not disappointed for myself i'm disappointed for Joe. He put in the effort and stuff and that's the only 2 supporter from the 1000++ strenght forum? haiz.. i miss the "golden ages" for
Katoots
But nevertheless we enjoyed ourselves, i manage to visit the HQ and it's like a toy paradise. After meeting BH for a few times i finally gotta see Ban YJ the man himself!! the amount of toys he have in his room is like a toy fanatsy for every kid.. it's scary.. now we know how much money Ban is earning and we are spending :sweat:
And to my surprise, HQ is actualli just located behind H.I.G.H where
Keong
use to work!!
Joe is a nice person.We share alot of thots and we chat alot.He have got a interesting hobby. i dunno wat is it cal but it kinda like wear armour and fight thingy.
He also share an interesting fact of canada. Bubble Tea is starting a market in Canada and each cup cost $7 !! Dun doubt ur eyes.. it is $7 !!! cause Joe was saying Canada's fruits are very rare due to the season.
It's a good trip and i nv thot i will be featured!! :lol: And i hate that foto!!
Mr.Smith, Will i be feature on sammyboy one day??
"我就是我行我素 我沒有風度 我只有態度 你說我太酷"