Foreplay
: Scandal is in the air. I cant remember since when but scandal seems to be the way now? After Pei Rong ask me out for movie and everyone kip teasing that she is my scandal now dear dear also got Daniel Ong ask her out in the middle of the nite and uses stupid excuse like everyone else is either sick or nv pick up the fone and when dear say that her friend is coming along he say other time.. :muahaha: this is so fun~
-------------------------------------------------------------------------------------------------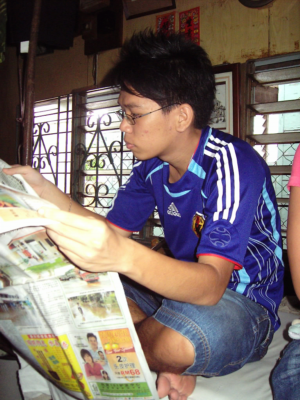 Uncle Chai Acting intellectual
It's Uncle Chai's (
John
) off and it's march hols for dear dear. So uncle chai decide to bring us back to his hometown JB.Picture above is a picture taken at uncle chai's grandmum's shop house.
Ah ma also support mediacorp channel 8 leh!
Started off the day trying to eat some famous JB bak gok teh but best of luck.. it's monday and there's no pork so no teh. and the world is realli ji small..jacky saw his encik at the shop area as well..So no teh no teh and we went to try the famous "Paper cover chicken" beside it.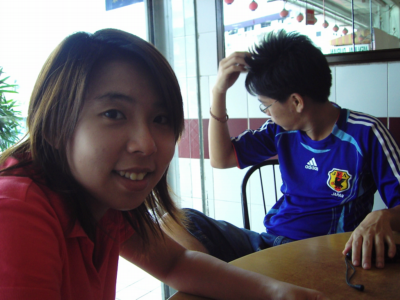 dum dum feeling hungry and Uncle Chai acting all vain
yum yum..
Ever wonder why all the food at JB seems to be famous? i also dunno why but every store also comes with the newspaper cutting.. :lol: So we got the famous chicken and pi pa duck and vege u can see above. It's realli very nice.. especially the chicken. with rice and drinks total for 4 person ( include jacky's mum) and it only cost us 50RM!!! which is lesser den $25 SGD wor!! so cheap!!
u want some?? no more lo~
Next stop was city square and get ready for shop shop shop!! but uncle smith very sad one.. always nothing to buy.. uncle chai also.. all he got was a sweater for mum kelly and a pair of shoes for Linus which means nothing for himself too!!.
dumdum got nice toe toe
The one who benefit the most is still Mdm Goh la.. Finally got her toes a "Full package" which cost like half of wat we pay at singapore lo..den she got another 2 t-shirts as well..
Feeling all bored and nothing to do so i decide to give my best pal a "full package" as well.. I said my best pal.. not my "number 2".. It's my PSP.. bring him to "zhng" abit.. got him new decal and added a new body kit~ mai siao siao. The body kit cost u $18 SGD and it's onli $4 SGD at JB!! and the decal also like 30-40% cheaper den those in SG and the guy give good service too!! helping me stick it on and he realli look very professional when doing it wor..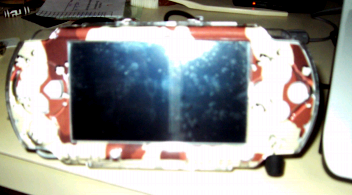 Reflection quite bad.. cannot see the body kit la
Half way during the shop shop shop dumdum wanna go toilet and Uncle Chai decide to visit his car at the carpark.. worry ma.. always hear pple car got stolen and all that shit. den something bad happen.. uncle chai went missing for like almost 45 mins.. call his hp cannot get.. sms no reply.. walk around find him also cannot.. the reply from the teleco abt his fone was "connection error" dumdum was so worry abt him.. thot he got kidnapped or so i thot he drop into the toilet bowl la..
den he suddenly gave me a call and told me he saw another friend of his and was talking cock with him.. kns.. realli make us damm worry la~..After Uncle Chai was lost and found.. We are all ready for the main event of the day!!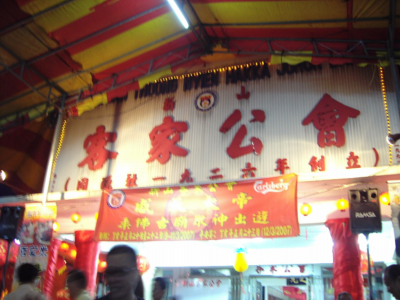 It's like a yearly festival for the "ha ka" pple in that area to thx god and stuff. And this yr we are all lucky and manage to come on the right time and get to be part of it too!!
It's realli like those u watch on tv where everyone seems to know everyone. A very kampong style kinda event. Food was serve.. beer..drinks.. and the main event was actualli auction!
So there is this guy there shouting.. nothing much different from those we see in SG. bidding stuff which round up bids like martel at 388 RM or so.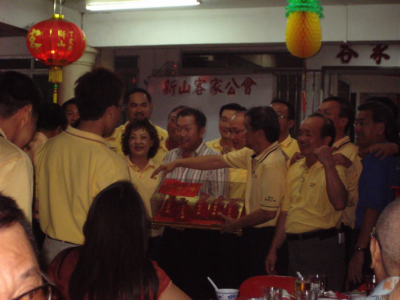 Winner of the day
Of all the auction this is one which realli need to be mention. This gentlemen above spent a good
23k
RM on this 5 bags of rice.
So what's the big deal about this 5 little bag of rice. in fact after hearing the description i think everybody wanna take this home..
It has a name call "代袋平安" the 1st "dai" actualli means generation and the 2nd "dai" actualli means pocket. So with this 5 bags of rice. it will bring 5 different kinds of fortune to 5 generation. and if i'm not wrong the 5 kind of fortunes are as below
1. Wealth - huat ah~ we all know this
2. Health - as usual.. wishing everyone healthy
3. Respect - meaning ur career and stuff
4. Happiness - everyone to be happy
5. Shit - i dun mean u have alot of shit.. i mean shit.. i forget la!!
and on top of that.. this 5 bags of rice is consolidated from 100 families. which means combine power la~ and also this is the one and onli set in the whole of malaysia and after 150 yrs of history, this is the 1st time they are actualli auctioning out this set of "lucky rice".
u see la.. is it worth 23k??
So after one long day of event we are back in Singapore..
i wanna go some other country too!!
Mr.Smith, Malaysia~ Truly Asia~
"我就是我行我素 我沒有風度 我只有態度 你說我太酷"