Hey Hei!!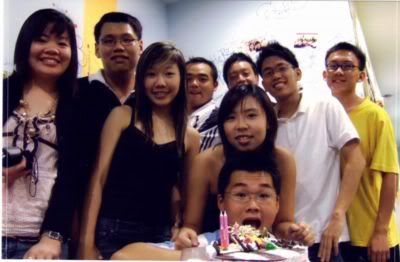 Evening's attendace : Faith,Kong,Emily,V goh, Ryan, Jacky, Keong , Dear and Me and in absence : Mr. Ma
celebrated early bday for myself at my favourite
PitStopCafe
The Picture above was actually the printed version : a gift from Timo and gang. and it was pasted on the wall of pitstop w commence : to find out wat notti words we added on.. pls visit pitstop urself to check it out! =)
So i've introduce another batch of new friends there!! Keong , Ryan , Faith and Emily !! play some games and as usual it's freaking fun!! love pitstop man!! played a game call "Ticket to ride" Keong and Jacky won hands down with Emily + Ryan 2nd and Me + Kong 3rd.. Yun + Faith was 4th and Vic was Last.. Played another card game ..more or less like uno which i've played b4.. more fun and lafter !! =)
Keong commented : nice play.. cosy.. can jio pple come.. / immediatly after that he talking on fone telling pple abt it and wondering if it is halal..
Ryan commented : nice place.. shld do " fan-chai" / he's always into business ideas
as usual they made us feel at home.. celebrated my bday , sang song.. took pic for us and gave me one on the hse!!! with on the house finger food too!! YAY!!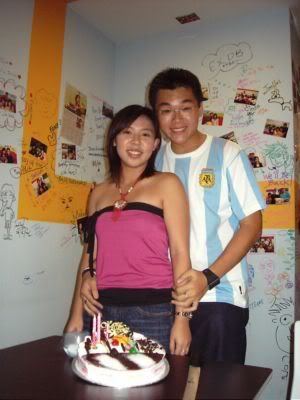 dear and me !! i love e swesen cake!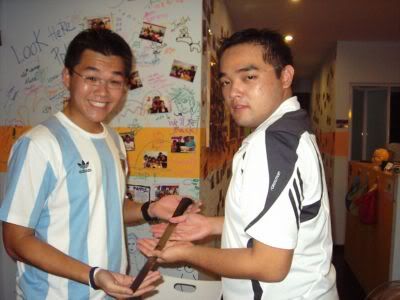 my encik handing over the "sword of not so honour" for cutting my cake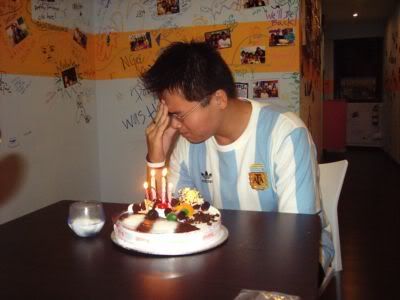 Make a wish? - shld it be world peace? tio 4D? i think i wish for England to get eliminated tonite
and YESH!! ENGLAND IS OUT!!!
btw .. i've been call up to replace my friend for NDP later in the morning.. 8am.. CCB.. time to slp.. =(
anyway.. i've enjoy myself!!! still got much to say.. carry on 2molow !!! bye peeps!!!
"love is not finding someone u can live with..it is finding someone u cant live without"