Looks like this World CUp talk is going to be a long series since it's gonna last for a month :lol:
Just finish another exciting match..
SCG Vs Hol
cant believe the way SCG play.. they are freaking good.. they have many chance but they fail to finish it.. intercept nicely and they seriously make great trouble for great holland.. holland got a botherline 1 - 0 victorys which is such a shame !!
I cant believe ARG always have such tuff luck.. drawing into group of death so easily..
WC 02 - the one which piss me off.. not able to proceed.. and moreover.. it was my batigol's last WC..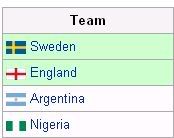 WC 06 - looking at the previous 2 match.. argentina shld be able to proceed.. but holland might have trouble.. CIV is gonna give them big big trouble..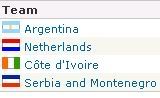 GO GO ARGENTINA!!
"love is not finding someone u can live with..it is finding someone u cant live without"